On-Track Technology offers effective asset tracking solutions in the form of independent RFID reader stations. These units may be stationed at strategic points around a rail network, and feedback asset information to the owner as tagged equipment it is detected passing in front of the station.
The communication mode is via internal GPRS modem and as such only 220V mains power and a SIM card is required to install a strategic RFID node.
Product Features and Highlights
Support for Multiple Asset Tag Types
The latest generation RFID Stations offer the ability to read several asset tag types including:
Or a combination thereof.
Low Profile Asset Tags
Individual low profile asset tags are available at a relatively low cost. These tags may be programmed with any desired number / code.
Tags measure 110 x 21 x 5 mm and are easily attached in a matter of minutes by spray on industrial adhesive.
Wheel Sensor Interface
Reader stations may easily be interfaced to a wheel sensor set, providing train consist details such as vehicles, direction of travel, speed and approximate masses (to ±5%).
Microprocessor-Based Technology
Based entirely on microprocessors, the RFID system is energy-efficient and reliable, while providing excellent performance. All components are industrial and solid-state, with no moving or rotating parts. Dedicated firmware removes the need for an Operating System, increasing stability while reducing costs and maintenance requirements. The result is a simpler, more reliable system, which is ideal for harsh operating environments.
The hardware is compact, resulting in a much smaller footprint than traditional systems. All Dynamass T-series products are housed in a small, vandal-proof 500×400 mm trackside enclosure, which is easily installed by a small team. This makes the traditional trackside building or equipment container redundant.
The efficiency of the system coupled to power-optimised firmware translates into a system that is ideal for solar-powering. A 200W solar system can run a full RFID Reader Station with an AVI reader. The solar powering makes the system an attractive option for remote, unsupervised locations.
Communications
The RFID system provides native support for GSM-based communications. The GSM modem used is a plug-in module with options available to cater for various frequency bands in use around the world.
GSM network support makes the system ideal for remote installations, as it makes use of existing GSM communications networks. Three antenna options are also available, providing standard, high and very-high gain options, providing a solution for even the weakest of signals.
Transmitted data is a compressed binary stream, ensuring that communication resources are used sparingly. This approach puts the communication payload in the realm of bytes rather than kilobytes or megabytes with traditional monitoring systems.
The combination of efficient data usage and GSM support makes the RFID Tracking Stations ideal for remote installation.
Reporting
The data content is simply Tag Number and Time/Date of Tag Reading.
Data is stored locally on the processor in the box adjacent to the reader. The system can be configured to send data after a defined number of vehicles have passed through the reader station, via email to a pre-defined list of email recipients.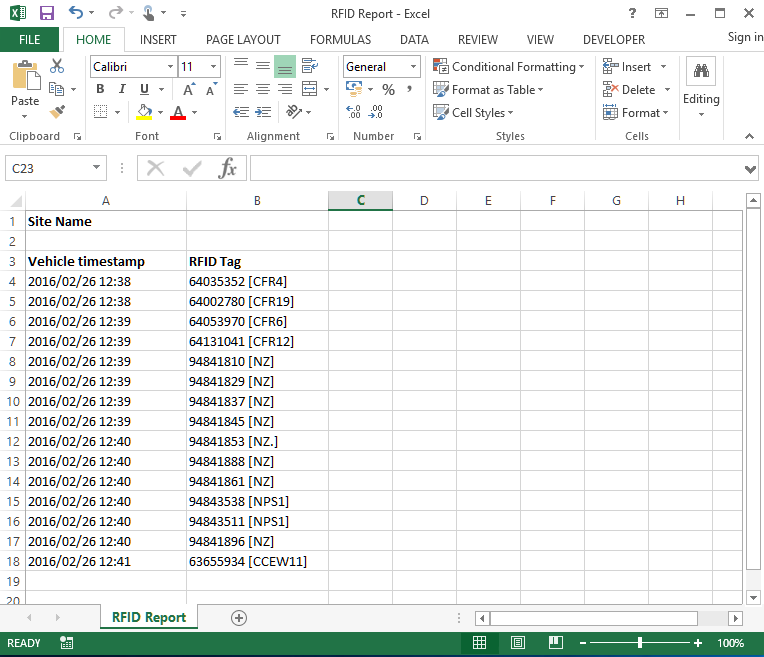 Installation Requirements
Installation requires approximately 6 hours.
Power required (220V AC / 24V DC / 12V DC).