In-motion weighing systems use modern technology to capture the weights of rail vehicles whilst in motion. This greatly improves the weighing process, making it faster and more efficient. Its also greatly improves railroad safety, detecting skew loaded and under- or over-loaded wagons and flagging these in the reported data.
Product Features and Highlights
Trade-Metrology Approved
On-Track Technology offers several weighbridge options across its approved Massize range, which are all compliant for trade-metrology use. Trade-metrology use means that the weighbridge output can be used legally for commercial, or billing, purposes.
The different models are tailored for varying loading applications and speeds, which range from 0-60 km/hr.
Standard Weighbridges
In addition to the metrology-approved family, On-Track Technology provides a non-approved family of weighbridges, called Dynamass.
Massize Advantages
Massize in-motion weighbridges offer several advantages over other weighbridges on the market.
Retrofit Technology
All sensors are retrofitted to the existing track section, creating a weighbridge from the existing track. Work can therefore be carried out safely between train movements without taking the rail out of commission or disrupting operations.
There is thus no requirement for:
Sleeper substitution or modification
Rail cutting or replacement
Concrete plinth and/or supports
Ballast modification
Finally, the retrofit technology also makes complete weighbridge relocation a cost-effective option. Relocation cost is typically 15%-20% of the cost of a new weighbridge.
Stoppage, Rollback and Reversal Compliant
Massize T-series weighbridges have the ability to track and correctly deal with the train stopping, rolling back or reversing while over the weighbridge. These events are dealt with transparently and no data is lost or duplicated. This makes the weighbridges ideal for use at loading or offloading operations, where rollbacks and stoppages frequently occur.
Microprocessor-Based Technology
Based entirely on microprocessors, the Massize system is energy-efficient and reliable, while providing excellent performance. All components are industrial and solid-state, with no moving or rotating parts. Dedicated firmware removes the need for an Operating System, increasing stability while reducing costs and maintenance requirements. The result is a simpler, more reliable system, which is ideal for harsh operating environments.
The hardware is compact, resulting in a much smaller footprint than traditional systems. All T-series products are housed in a small, vandal-proof 500×400 mm trackside enclosure, which is easily installed by a small team. This makes the traditional trackside building or equipment container redundant.
The efficiency of the system coupled to power-optimised firmware translates into a system that is ideal for solar-powering. A 215W solar system can run a full Massize-T4 with dual AVI readers (see below). The solar powering makes the system an attractive option for remote, unsupervised locations.
Automatic Vehicle Identification (AVI)
Massize weighbridges are compatible with the widely-used Amtek / Transcore AVI system (AAR & ATA), as well as the more modern Gen-II standard. The benefit of the AVI system is that each wagon has a unique truck number/vehicle class attached to it in addition to the mass information. This is very important to ensure that masses are assigned to the correct vehicles which can be particularly difficult in operations where shunting of wagons occurs and where the departing consists can be different sequentially to that of the weighing process. Use of the reader provides the additional benefit of automatic tare mass calculations, where applicable. The reader is simple optional upgrade to the base system and is mounted to the track enclosure as shown below.
Reporting Options
Mass and identification data can be used in a number of ways. Our offering caters for various usage scenarios including traditional PC-user interface, process integration and automated report distribution.
PC Integration
Most scenarios require a user interface that an operator can interact with. We provide a Windows application that serves as a universal reporting and weighbridge management tool. Weighbridge data is transmitted, optionally in real-time, to the reporting PC, where it is processed, tabulated and presented graphically. Any anomalies in the measured data are highlighted based on pre-set parameters, allowing users to quickly identify potential problems. The image below shows the typical user view, as well as vehicles with identified issues highlighted in red – the limits are configurable in the software.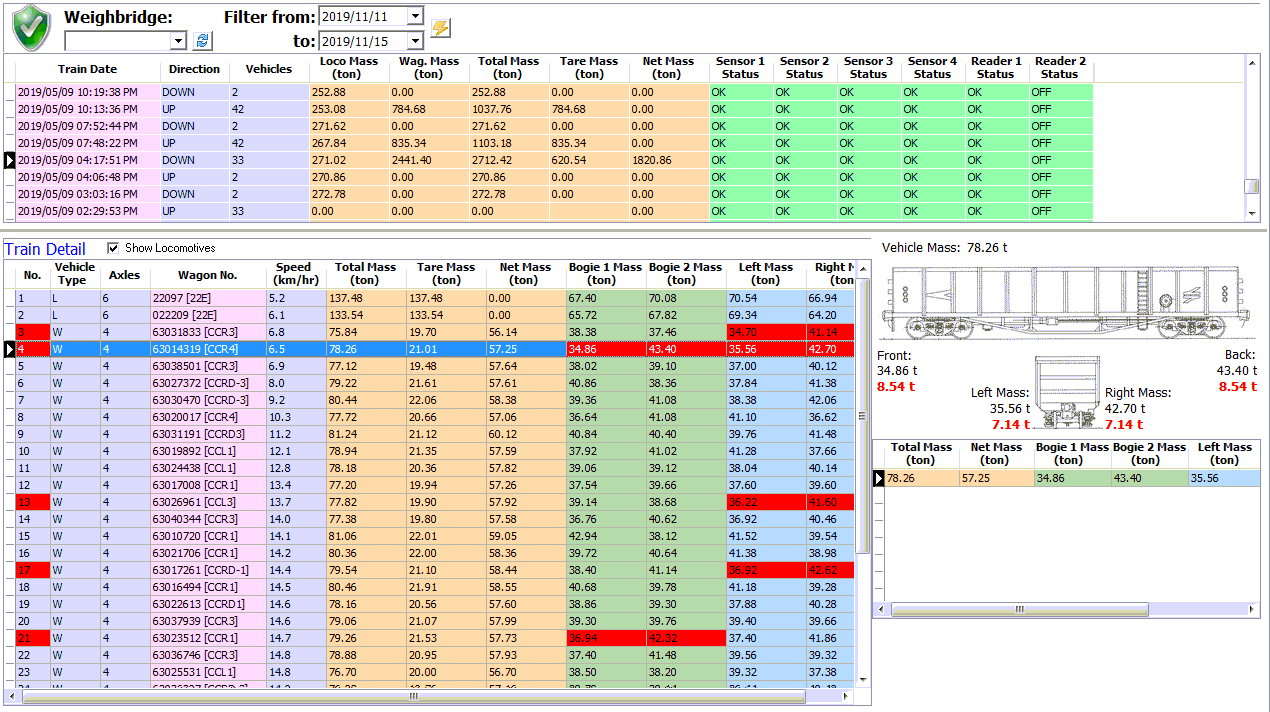 Available reports include train summary and detail, all of which can be viewed, printed or exported. Supported export formats are PDF and Excel. Automated reporting tasks can be set up, allowing reports to be created and distributed at scheduled intervals (automated email distribution is enabled by means of the emailing add-on).
The Windows application also serves as a powerful management tool. One instance of the application supports multiple weighbridges, without additional license costs. The application is flexible, allowing for any weighbridge configuration changes, which can be carried out remotely. Finally, the application serves as a complete diagnostic tool.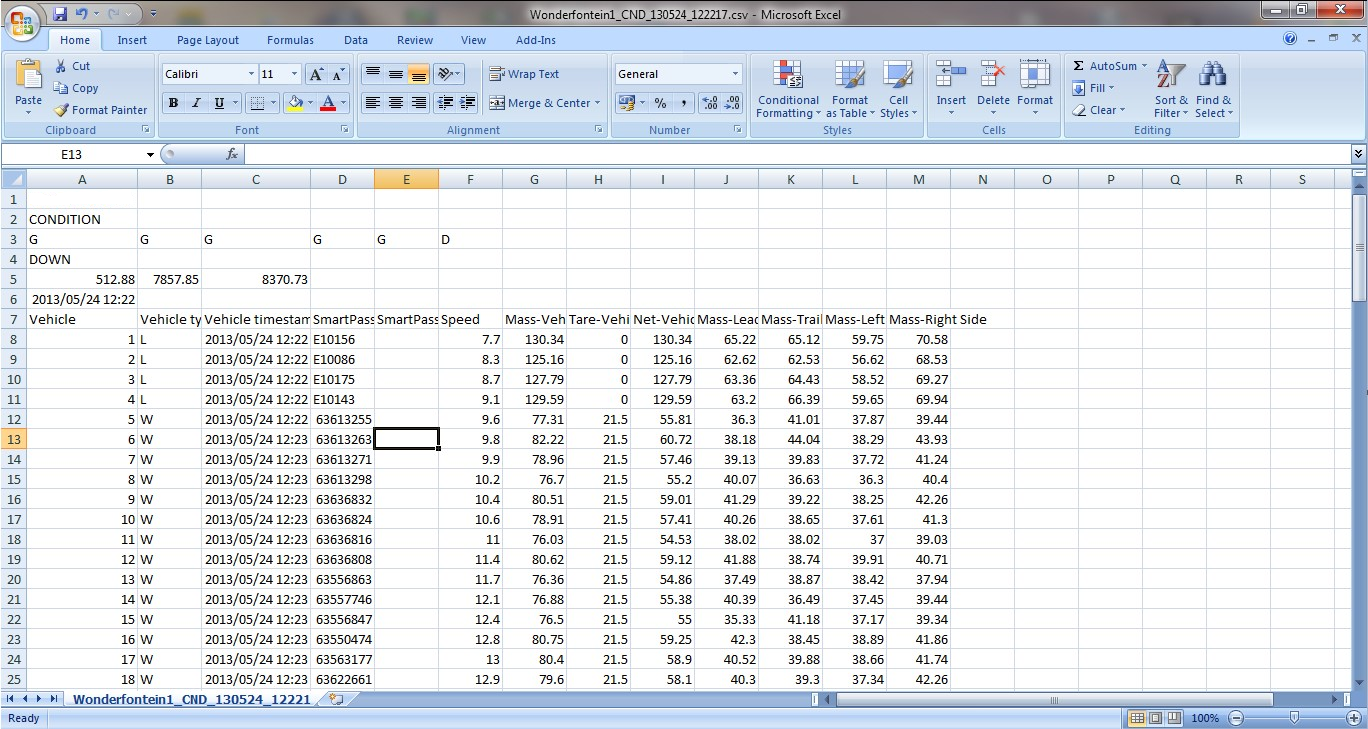 Process Integration
In process applications, such as loading and offloading stations, it is desirable for the control system to integrate directly with the weighbridge. This allows the process to perform whatever feedback control and integration is required and eliminates the need for an extra layer of information.
Our weighbridges provide support for direct integration via a "real-time" interface, which allows the controlling process to interrogate the weighbridge directly. Vehicle data is instantly available when the last axle of any vehicle clears the weighbridge. This real-time availability of information allows effective implementation of closed-loop control in an automated process. The real-time interface is available via RS-232 or Ethernet interfaces and integrated via a comprehensive, well-documented API.
Email Distribution
The third option for data distribution is Direct Email Distribution. In this case, the weighbridge uploads measurement data to a server, where the data is processed and distributed automatically via email. In this case, multiple recipients receive the data on their existing workstations, eliminating the need for dedicated weighbridge PC.
Downloads